About
Michael's influences range from Stravinsky to hints of early rock, jazz, and electronic music, as well as 16th century polyphony. Growing up in Maryland and New York, his first musical experiences were through trumpet performance, primarily in jazz improvisation and baroque music. Eclectic in styles, notations, orchestrations, and ensembles, his music has been cited for its "rhythmical drive [and] traditional harmonic touches that are both surprising and inevitable" [Portland Herald Press]; "Elsewhere, tradition is gleefully thrown to the wind—such as with Lee's stunning Farewell… for string quartet, with its ever-shifting rhythms, timbres, and moods" [PARMA]; "vivid and visceral orchestrations" [REMI Arts.]; "fluid drama [and] focused intensity" [AblazeRecords]; "promising" [BMI].
His music has been performed recently by the Albany Symphony, Thornton Symphony, Juilliard Orchestra, Peabody Symphony, Lyris String Quartet, Hear Now!, Loadbang Ensemble, New York Virtuoso Singers, Moravian Philharmonic Chamber Orchestra, Kharkov Philharmonic, Oradea State Philharmonic, Serrenata String Quartet, Gamper Festival at Bowdoin, ALEA III Contemporary Ensemble, UPBEAT's Milna Contemporary Ensemble, Boston New Music Initiative, MusicNow Ensemble (ISU), the Asian American New Music Institute Ensemble, Thornton Edge, Chamber Music of Rochester, among many others.
He is the recipient of the Charles Ives Scholarship from the Academy of Arts and Letters, the USC's Sadye J. Moss Composition Prize for Unmasked for Classical Guitar, the Arthur Friedman Prize from the Juilliard Orchestral Composition Competition (Top Prize), the ASCAP Morton Gould Young Composers' Award, finalist representing the USA in the 28th International ALEA II Competition, a 2009 Honorary letter of praise from BMI, the NACUSA Competition 1st prize winner for Farewell, the Howard Hanson Prize, the Bernard Rogers Memorial Prize. He was the 2014 finalist in the Apollo Chamber Players, the 2014 LA's Synchromy call for scores contest, the 2015 finalist representing the USA in the Dvorak International Composition competition, and the 2017 finalist in the California Symphony's composer in residence "call for scores". His recent work solo guitar work, "Unmasked," was premiered live on the Seattle's Classical Radio Station 98.1 FM by guitarist, Cameron O'Connor, and has since been performed several times in the U.S and abroad.
Michael's attended many new music festivals, most recently: the Hear Now New Music Festival in Los Angeles, the Red Note New Music Festival held at I.S.U., the FUBiS Summer Composition Program, the Bowdoin International Music Festival, the Gamper Festival of Contemporary Music, the European American Musician Alliance Summer Festival, the UPBEAT International Summer Music Festival, the Oregon Bach Festival Composers' Symposium, the NACUSA National Conference where his string quartet Farewell was performed by the Serrenata Quartet, and among others.
American composer, Michael Lee was born in Atlanta, GA and received his doctoral degree in music composition at the University of Southern California Thornton School of Music on August 8, 2017. His academic minor is in Music Theory, primarily focusing on Schenkerian Analysis and Post-tonal theory. An avid and active teacher: Michael has four years+ experience teaching and leading classes as an instructor and lecturer in music theory, musicianship, and individual instruction (composition, orchestration, theory for non-majors) at The University of Southern California.
He is the former graduate of the Juilliard School (M.M 2012), and the University of Rochester Eastman School of Music (B.M). His primary teachers include Samuel Adler, Donald Crockett, Frank Ticheli, and Ricardo Zohn-Muldoon. He has attended masterclasses and/or private lessons from Sean Friar, Adam Schonberg, Andrew Norman, Stephen Hartke, Ray Lustig, Milton Babbitt, Derek Bermel, David Liptak, Sydney Hodkinson.
Michael currently lives in Los Angeles with his 10-year old dog, Mink, a Havanese. His second language is Korean, and his favorite sports are Ice Hockey and Brazilian jiu-jitsu; his favorite foods are Korean Bibimbap, and In-and-out cheeseburgers.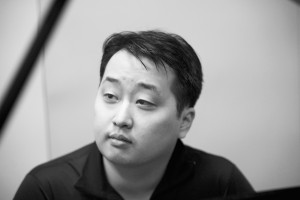 Listen to Come What May, premiered by Harold Rosenbaum and the New York Virtuoso Singers – Mr. O'Connor on Guitar.