Music
Michael's music has received recognition by the Academy of Arts and Letters, ASCAP, BMI, Baltimore Sun, Portland Herald Press, The Chronicle (NYC), members of The Kronos Quartet for Mr. Lee's "Farewell…", and MusicNow, among others. New works performed at national/international festivals including FUBIS (Berlin), EAMA (Paris), Bowdoin (USA), among others.
High quality video recordings of Michael's MUSIC and TEACHING can be found on YouTube: www.youtube.com/user/michaelleecomposer/videos – https://www.youtube.com/watch?v=iJax0yzlAmM (Lecture on Ligeti at USC)
Chamber Compositions
Orchestra & Large Ensemble
Audio files, music notation on this website are protected under the United States Copyright Law. Redistributing, copying, posting on another website without prior written permission is punishable by law. Violators will be prosecuted to the fullest extent of the law.
Purchase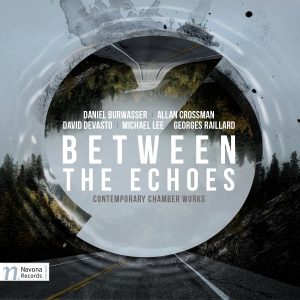 Michael Lee's "Farewell…" is recorded by members of the Moravian Philharmonic: Vit Muzik (vln.), Igor Kopyt (vln.), Dominika Mužíková (vla.), Petr Nouzovský (vlc.)
» Buy it on iTunes
» Buy it on Amazon
» Listen on Spotify
Review for "Between the Echoes":
"…tradition is gleefully thrown to the wind – such as with Lee's 'Farewell… for String Quartet', with its ever-shifting rhythms, timbres, and moods… It's a wonderfully rich and diverse collection of tracks that beautifully highlight why chamber music is still very much alive and the selection here perfectly showcases the genre's traditional and modern styles."
– Review Graveyard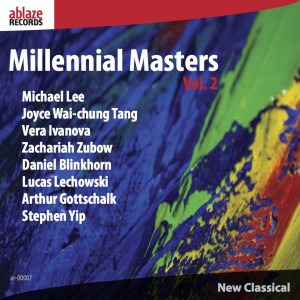 Ablaze Records' "Millenial Masters, vol. 2" features Lee's Capriccio, for violin and piano, A Voice in the Waves performed by Jiwon Evelyn Kwark (vln.) and HaEun Lee (pno.)
» Buy it on iTunes
» Buy it on Amazon
Review for Ablaze records' "Millenial Masters vol. 2":
"…writes in a lightly dissonant, fairly tuneful American style, somewhere between neo-Romantic and neo-Classical. It should appeal to most tastes."
– MusicWeb International
On the Radio
His Music has been broadcasted on over 50 classical music stations including international radio stations such as:
Afternoon on 3
BBC Radio 3
BBC Broadcasting House
CD Review
Hear and Now
Essential Classics
Discovering Music
Julian Day
New Music Up Late
ABC Classic FM